6 critical considerations for a global Medical Information system
A few weeks ago I was approached by Techsol, the developers of the global system, MedInquirer, to distill my 23+ years' of Medical Information knowledge and list my top six critical considerations for a global MI system.
Two basic system requirements are assumed before I even get to my top six.
The MI system needs to log and track enquiries.
It needs to be integrated with a knowledge base of frequently asked questions or response documents so that you can seamlessly find and send responses.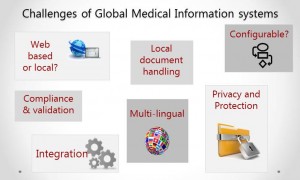 But what other key factors do you need to consider when selecting the ideal global MI system?
Look for a web based system that gives flexible access without the need for local software.
A highly configurable system means you can adapt it to your needs without code changes.
Make sure it can integrate seamlessly with your existing systems.
Can it accommodate your local language or document needs?
Does it meet your data privacy needs?
And finally, remember MI systems result in long-term company-vendor relationships and so check the vendor support.
You can read the full article by downloading it from the Techsol website
Sign up to our newsletters
Join our news bulletin for the latest updates, news and free webinars