ABPI Code of Practice training during COVID-19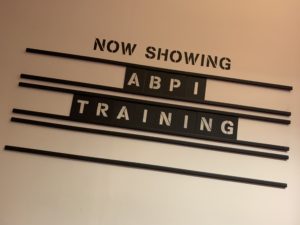 Firstly I hope that you, your family, friends and loved ones are staying safe and well during this unprecedented time.
We've obviously had to postpone our face to face training sessions and a lot of people have been in touch asking about online or eLearning options. Fortunately we diversified into both of these a few years ago and so we have lots of experience with remote training. We are currently working hard to adapt our face to face materials to provide new Code of Practice training options. Course development will take time though and so here are our plans.
New courses
An introduction to the ABPI Code of Practice – eLearning
We are developing an eLearning course that will give new starters an introduction to the Code. It will cover the background to the Code, the key principles and will give an overview of the key clauses. This course will be aimed at those who are new to the Code – in pharmaceutical companies, supporting agencies or those looking to secure their first role. The course is designed in small modules with videos, slides and quizzes and will be released sequentially over the next few weeks. The course will cost £275 + VAT per person and will be available to start mid April 2020 via our online shop. Discounts will be available if you book more than 10 places. Contact us if you want to be kept updated.
In-depth ABPI Code of Practice training – live webinar series
We are switching our successful 2-day face to face course into a series of live online webinars. This new course will cover the whole Code and the key advice documents and is aimed at those looking to become final signatories or those that need more in-depth knowledge about the Code. It assumes some Code knowledge.  We'll have lots of examples to make the Code come alive and to keep you engaged, plus there will be discussions and debate to help you really understand the Code. To stop you getting online fatigue, the course will run as 5 x 2 hour sessions run over a number of days + homework.  The course will be recorded and will be available for 1 week if you can't make one of the live sessions. Sessions will run in April, starting 14 April and late May (dates tbc). Please see the events page of our website for more details.
Our longer term plan is to create an in-depth eLearning course – we are going as fast as we can!
Annual refresher ABPI Code of Practice training – live webinar
Finally if you are looking for annual refresher training, I'll be doing a live webinar covering the significant Code cases from 2019 onwards.  This will be a half-day live webinar on Wednesday 29 April 2020 at 2pm – 4.30pm.  It will be repeated on Monday 11 May.  The cost will be £215 + VAT per person.  Please see the events page of our website for more details.
31 March 2020
Sign up to our newsletters
Join our news bulletin for the latest updates, news and free webinars