2021 ABPI Code of Practice – top tips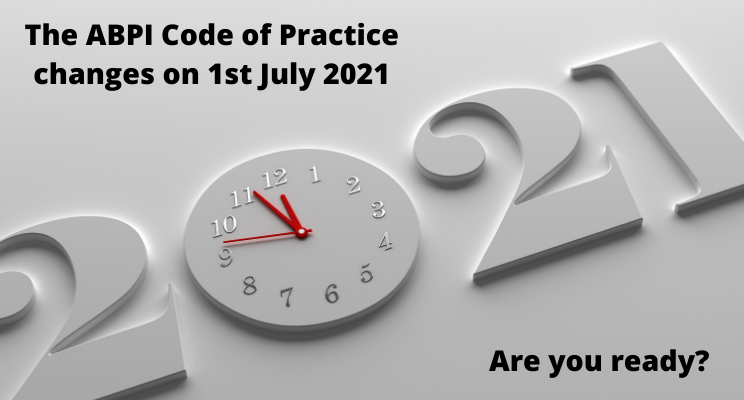 The 2021 ABPI Code of Practice go live date is just around the corner. Apart from ongoing Medical and Educational Goods and Services (MEGS) and possibly some Brexit PI changes,  all materials and activities need to comply with the new Code from 1st July 2021.
Over the last few months it has been a pleasure to work with so many companies – pharma and agencies – to unpick the changes and help them roll out across their organisations. But if you're not there yet, here are a few tips and suggestions.
A good place to start is the PMCPA website. You'll find a technical release of the 2021 Code and various supporting documents that cover the main changes. There is no single published document that highlights every detailed change that is being made, so set aside some time to work through it all.
If you want a fast-track approach, including the detail, we have just released a 'What's new in the 2021 Code' self-directed eLearning course. It takes just under an hour and covers why the Code has changed, the timings, new structure and the detailed changes.
Have a plan for training staff on the new Code. If you don't have compliance experts, seek help to make sure everyone involved in materials and activities covered by the Code knows the impact of the changes. This includes third parties such as agencies, contracted sales teams, publishers, events organisers etc. Get in touch if you need team training!
The ABPI is now placing great emphasis on the 4 Code principles – benefiting patients, acting with integrity, ensuring transparency and treating everyone with respect. Companies are expected to embed these into their organisations. Think how you will achieve and demonstrate this.
Specific changes aside, the 2021 Code has had a massive restructure resulting in virtually every clause being renumbered and a lot of terminology changes. This means that most, if not all, company policies and procedures will need updating. So build in time to align everything and of course re-train staff.
There are changes to disclosure. From 2022 onwards, companies need to disclose payments for certain contracted services paid to members of the UK public including patients and journalists. Consider how you will capture and track these payments and whether this impacts your finance systems.
And if you currently provide MEGS and joint working projects check the new Code requirements. Ongoing MEGS continuing into 2022 need to be reclassified and joint working is now part of a wider term collaborative working.
If we can help with implementation and training, please visit our Code training page or get in touch.
20th May 2021
Sign up to our newsletters
Join our news bulletin for the latest updates, news and free webinars