Celebrating 250+ medical eLearning course enrolments
Since launching our online eLearning courses for Medical Information and Medical Affairs six months ago, there have been 250+ enrolments from Medical Information, Medical Advisors and MSLs across the globe.
The story so far …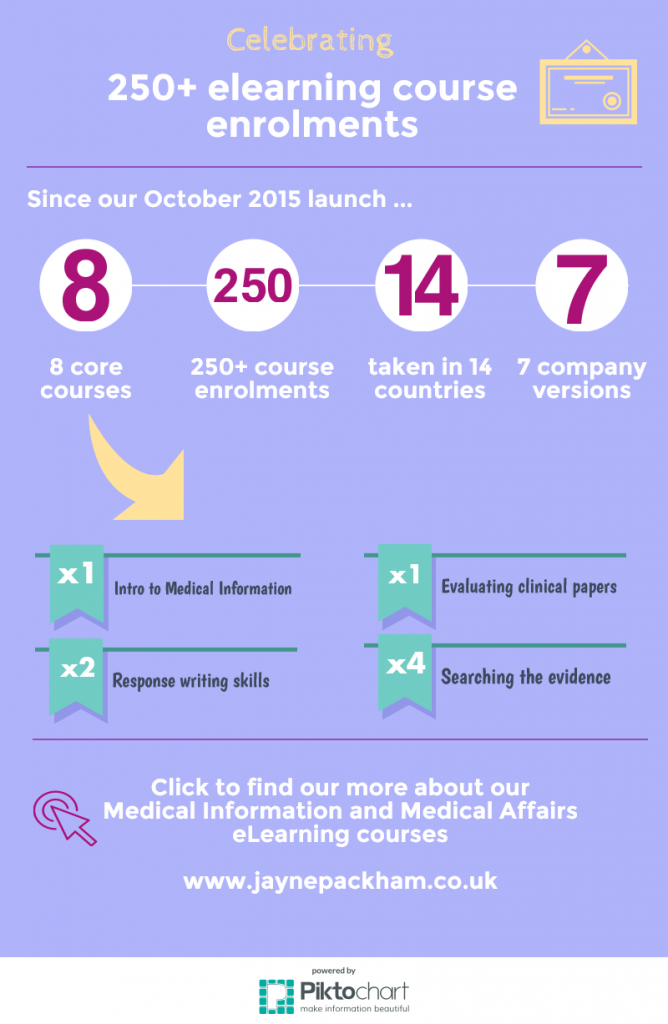 8 core courses and growing
With 8 core courses in our eLearning course catalogue you can take our standard courses.  Or, if you are a larger team, we can create and host bespoke modules that are tailored to you – reflecting your procedures and processes.
Some of the stories behind our course enrolments
I need to train 50 people across the region and I don't have the time or budget to fly around the world
I have a new starter – I need a training program next week that fits around our in-house courses
Half our team are in a different country – with the time zones we need 24/7 course access
Help … I've forgotten how to search PubMed properly and need a quick refresher
I have a job interview next week and need to know how to evaluate a clinical paper
I'm applying for Medical Information jobs and need to understand the role
If you're interested in finding out more about our courses, please contact us, of it is a bigger project, book a telephone discussion slot in my dairy.
Sign up to our newsletters
Join our news bulletin for the latest updates, news and free webinars